It wouldn't be a gift guide without including L'Occitane, it also wouldn't be Christmas without shouting from the rooftops about their gorgeous gifts, advent calendars and other seasonal products and I am oh so in love…
This is honestly the most beautiful thing ever. I love advent calendars, I think the whole concept of having a little treat behind a door is such a lovely idea and so exciting! Beauty Advent calendars are getting better and better every year and L'Occitane have created two of the most gorgeous calendars this year. I have the Classic Beauty Advent Calendar which I will be opening on my Instagram stories every day throughout December which I am really excited about!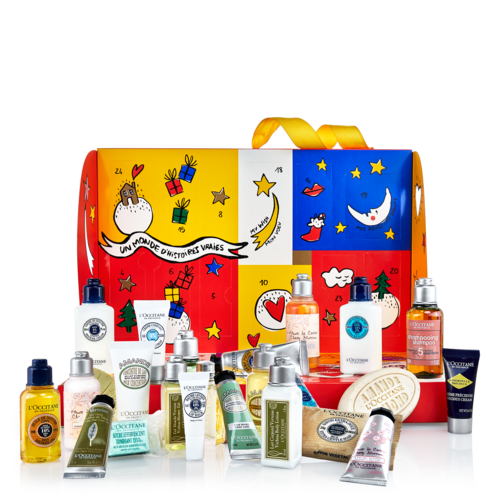 I don't think you can ever go wrong with a gift tin, especially when it contains adorable little hand creams. I think L'Occitane hand creams are my absolute faves, they are so soft and nourishing and the fragrances are beautiful, they're not too heavy and leave my skin feeling so soft. I've been reaching for my L'Occitane hand creams and other skin care on a daily basis these past few months and I don't think I'll ever go back to anything else!
This makes such a gorgeous gift too, the tin is so subtle and beautiful and the person you're giving it to can use it for something lovely when they've finished the hand creams. The set comes with Shea Butter Hand Cream, Delightful Rose Hand Cream and Delightful Tea Light Hand Cream. I think the L'Occitane Rose scented products are my favourite, they are utterly beautiful and I cannot get over the gorgeous packaging of these!
Pink Cherry Blossom Gift Set Boxes
L'Occitane packaging is gorgeous anyway, but over Christmas it just seems to get even better! Just look at these gorgeous boxes. They come in three separate collections; Cherry Blossom, Almond and Lavender.
Within the boxes you get a 500ml shower gel, 150ml hand cream, 35ml bath and shower gel, 1x soap, a shower cream and a foot cream. This scent is one of my favourite signature L'Occitane scents, it's so soft and beautiful and perfect for a Christmas gift.
I think these were a Christmas deal over a few days on QVC but if you'd like to get them then I believe these are the ones that are available on the L'Occitane site. I love the little minis, these are so perfect for people who are constantly on the go or for taking on weekends away, and everything just looks 10x cuter when it's small!
The Solidarity Candle, is not only gorgeous in itself but the concept behind it is so beautiful. 100% of the profits of this candle will be going to UNICEF's International Vitamin A Supplementation Programme where 1 candle = 1 year of Vitamin A for 5 children. This is such a beautiful gift anyway, the packaging is lovely and it smells delicious, it also comes with the cutest little pack of matches. But the cause is so important and such a lovely lovely idea.
Much like everything from L'Occitane this smells divine. I'm not overly keen on soaps, but I LOVE shower foams, and creams and find them a lot more moisturising and nourishing. L'Occitane products really lend themselves to gifting as their beautiful packaging gives everything such a luxurious treat feel. The main thing I love about shower foams is that a little bit of product goes so far you only need a tiny bit and with a bit of water added it foams up so much.
Let me know if you purchase anything from L'Occitane for a Christmas gift this year or if you just fancy treating yourself ~I wouldn't blame you~ and let me know what your favourite products are!
Evie x